In 2019, CASSIA released the global safety regulation certification new product LED strong light viewers.
Cxy- CASSIA global safety certification industrial X-ray film LED viewer
DL-2280DC
DL-2206D
DL-3010D
Main parameters:
·Input voltage: 90-264VAC / 47-63Hz / DC-12V5A (DL-2280DC; DL-2206D) / 12V12A (DL-3010D)
·Rated power: 60W (DL-2280DC, DL-2206D); 160W (DL-3010D);
·Maximum brightness: (DL-2280DC) > 300.000cd / ㎡; (DL-3010D) > 100.000cd / ㎡
·Viewing range: fullscreen
·Screen size: 8 * 22cm / 6 * 22cm / 10 * 30cm
·Dimming range: 5-100%
·Observable density: > 4.5D / > 4.0D
·Surface temperature rise: < 18 ° C (continuous 24 hours under normal temperature)
·Control mode: Manual + footswitch
·Cooling mode: air cooling
·High uniformity: > 0.95
·Scattering coefficient: > 0.95
Development background:
The viewer is one of the important tools for X-ray film evaluation. According to the different requirements of users for observing the density of X-ray film, the LED viewers will be put on the market with different specifications. However, with the needs of technical development, users at home and abroad put forward new requirements for the brightness, power consumption, safety certification, heating, power supply range, field use of industrial X-ray film LED viewer, according to the requirements of international ISO-5580-1985 and national GB / T19802-2005 standards, as follows: (see the table below)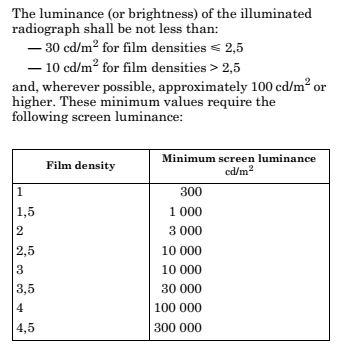 For these new requirements put forward by users, when the power consumption of the whole machine is required to be less than 60 watts, the maximum brightness of LED viewer light should be 300000 candelas (CD / ㎡), and the film density should be more than 4.5D. For fieldwork, the vehicle battery should be used for power supply, and a very innovative concept of desktop support and a very convenient composite wall hanging function must be provided.
Improvement or innovation:
According to the above requirements of users, we first need to optimize the LED light source. The optimized single LED light source must have a brightness output greater than 220lm (lumen) under the power consumption of each watt. This is a very complex problem. According to the current single LED Luminance per watt, it can not be achieved (because the LED viewer must solve the spot problem on the viewer screen). After in-depth analysis and repeated tests, we finally adopted the world's leading solution to solve the problem of low power consumption and high luminance.
For the LED power drive part, the customer needs to achieve global safety certification. For this reason, we have adopted a green and environmentally friendly design suitable for the input voltage of 90-264VAC, making its working efficiency as high as 92% - 94%, and with short circuit, overload, overvoltage, over-temperature protection, and fire protection functions.
We independently developed a high-performance PWM precise brightness controller which can make the uniformity coefficient of the screen brightness reach and exceed 0.95 when it is used in the state of adapting to the vehicle battery. When there is no AC field operation, we can use the matching vehicle lighter interface to easily connect to the vehicle battery and drive the LED viewer to work normally.
It is also a difficult task to design a desktop bracket with wall hanging function, which can be conveniently stored in the LED viewer shell when it is carried in ordinary times. Our engineers have ingeniously created a folding bracket with wall hanging and desktop using the function with automatic support function, and their design and manufacturing technologies have all obtained national patents. (Patent No.: ZL 2019 2 0919862.2; ZL 2018 2 1815052.4; ZL 2018 2 1815053.9; ZL 2018 2 1815051. X; ZL 2016 2 0651557.6; ZL 2016 2 0651584.3; ZL 2016 2 0651583.9; ZL 2016 2 0709826. X).
Typical applications:
Applicable to: aerospace, military enterprises, nuclear power industry, petrochemical pipeline, shipbuilding, pressure vessels, electric power, and other units requiring radiographic testing.
Honorary users:
At present, the products are mainly for export. (Britain, France, Germany, the United States, Canada, the Middle East, Latin America, etc.)
R & D and manufacturer: Wenzhou Cassia Intelligent Technology Co., Ltd